NTI Boilers Inc. welcomes a new manufacturing representative, Laylan Hydronics
Saint John, New Brunswick, Canada – January 2023 – NTI Boilers Inc. and Laylan Hydronics and HVAC Sales announced that the companies have entered a strategic partnership that will increase the NTI momentum in Ontario.
The agreement brings together NTI's broad and competitive product offering with the customer-centric leadership of Laylan Hydronics, a powerhouse combination that adds to the existing sales presence in Ontario. Laylan is committed to supporting NTI's Ontario customers and their sales team, representing the strength of this Canadian product.
"NTI boilers have always been highly regarded products that I've paid a lot of attention to over the years. I couldn't be more excited to work with the brand," says Mathew Pottins, the Founder of Laylan Hydronics.
With over a decade of experience working in the HVAC industry, Pottins realized his true passion was to run his own representation agency that focuses on hydronic heating and radiant products. Laylan is a sales agency that focuses on contractors first, offering high-quality products and services that help contractors find the right solutions for project success.
Both Laylan and NTI are customer-centric companies – NTI Boilers is a pioneer in developing the most advanced and efficient hydronic heating systems. They listen to their customers and use feedback to guide innovation. Laylan Hydronics prides itself on being a 'relationship first' manufacturer representative. Together, the companies are paving the way for contractors to be successful.
–
For more information:
Canada
Andrew Smith
Vice President Sales
asmith@ntiboilers.com
506-721-4318
Ontario
Gloria Coelho
Regional Sales Manager
gcoelho@ntiboilers.com
416-476-8885
About NTI Boilers


NTI is an industry leader committed to providing smart highly efficient heating and hot water solutions and highly trained and accessible technical support. Based in Saint John, New Brunswick, Canada, the company designs and manufactures a full range of high-efficiency heating products for residential and commercial applications.
NTI is part of the Ariston Group, a global leader in heating and water heating technologies with headquarters in Italy, listed on the Italian Stock Exchange. As part of Ariston, NTI has enhanced access to technical innovation to further strengthen its industry leadership in North America. To learn more, visit www.ntiboilers.com or contact 800.688.2575.
 About Laylan Hydronics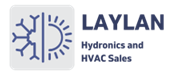 Laylan is an HVAC manufacturer representative providing solutions in new construction and retrofit applications. The company focuses on niche products to help grow the HVAC market and help create energy-efficient buildings by reducing their carbon footprint.
The Laylan team has decades of experience working in the heating and cooling industry and is dedicated to using its industry expertise to serve its customers effectively, efficiently, and professionally. Laylan has a passion for customer satisfaction, problem-solving and sourcing new technology to grow the industry. They go above and beyond their customer's expectations which have served as the foundation for creating a strong customer following.
Mathew Pottins
Founder
Laylan Hydronics and HVAC Sales.
mathew@laylanhvac.com
647-613-2530