Next Level Rewards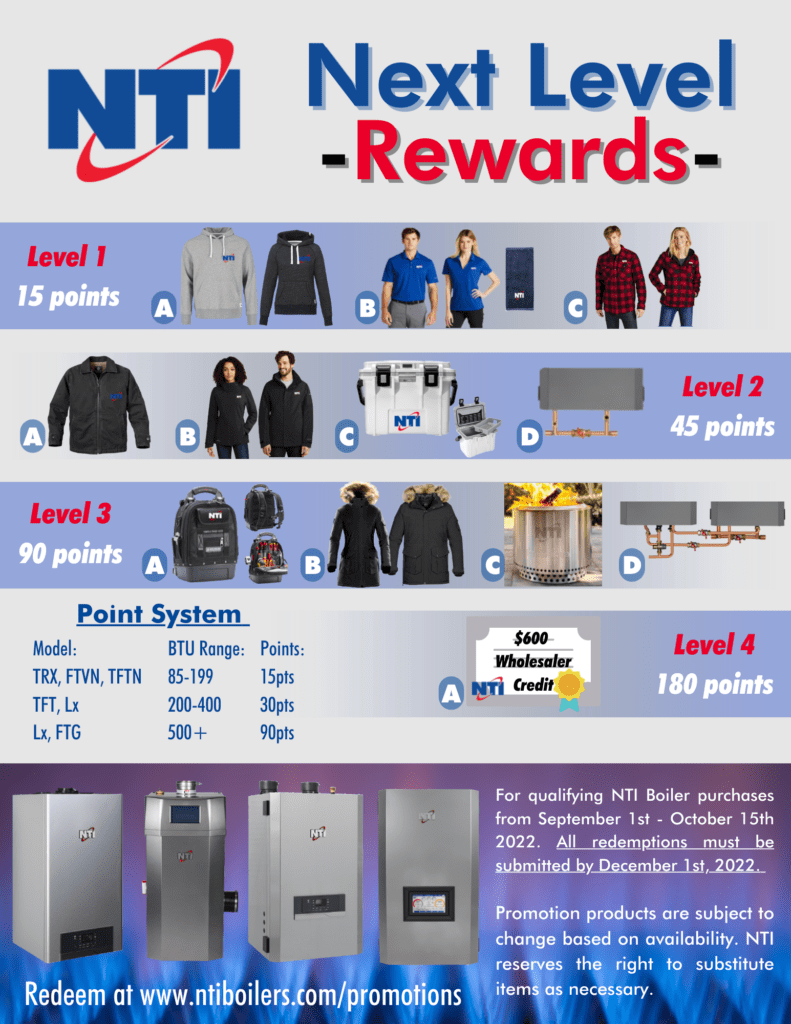 FAQ's
Q) I bought a boiler in August before the start of the promotion, can I use that to redeem for the promotion?
A) The promotion period runs from September 1st to October 15th, 2022 and applies to all units purchased within that period. The promotion does not apply to units purchased outside of the promotion period.
Q) I want to accumulate points to redeem for higher-level items. Do I submit each invoice as I purchase to accumulate points, or do I submit invoices all at once?
A) You should submit your invoices all at once when you want to redeem them. NTI will not be tracking accumulated points totals. If you have multiple purchases you want to combine to achieve a higher level, you should submit those purchases at one time and redeem the invoices based on the total combined points. There is no limit to redemptions per person.
Q) Surplus Points – On the redemption form, if I have more points than required for the merchandise I am redeeming, do those points get stored somewhere for future use?
A) Surplus points will not be tracked and should be used at the time of redemption. If the total amount of points available is more than the points required for the merchandise redeemed, the additional points will be forfeited. To get the maximum value for your points, we suggest you redeem merchandise equal to the points value of the boiler models submitted.
Q) I have purchased a/some NTI unit(s), now what do I do?
A) Visit our website at ntiboilers.com/promotions to find details on the promotion, including our online redemption form. There you can submit your invoices and fill out our online redemption form.
Q) How long will it take to receive my items once I have submitted my form?
A) Please allow up to eight weeks for processing and delivery of promotional items.
Q) I only have a Post Office Box for an address. Can you deliver to a PO Box?
A) Items will be shipped via courier, and most couriers do not deliver to Post Office boxes. Please try to provide a physical address where the items can be delivered.
Q) What happens if what I order is the wrong size?
A) If you realize there is an error in your order, please email marketing@ntiboilers.com as soon as possible, and we will do our best to resolve it.
Q) Will the items received be exactly what is shown on the promotional material?
A) We will try to keep items exactly as shown but given the uncertainty of supply chains at the current time, we may be required to substitute some items. When this happens, we will be sure to substitute for items of equal value and quality. There can also be some differences in items available between Canada and USA.
Q) How long do I have after the end of the promotion to submit my form to redeem items?
A) All redemptions must be received by December 1st, 2022. This date provides six weeks after the end of the promotion period to gather and submit the required information, which should provide ample time to allow you to maximize the value of your NTI purchases during the promotion.
Q) Can I request to have the items shown substituted for other items I would rather have?
A) The items available for redemption in the program are the only items available. We hope that amongst the several choices you will find something that interests you.
Q) I do not really need any of the items you are offering for the promotion, can you just give me a discount on a boiler for the value of the items instead?
A) If the items do not interest you and a discount would be more attractive, we suggest you use the Level 4 option to get a wholesaler credit.